Wayne Woodlands has resumed visitation at the facility.
Family members, please call (570) 488 - 7130 if you have questions.
Wayne Woodlands prides itself on, first and foremost, offering gracious, professional and compassionate care — a warm welcome to you and your loved ones!
Our facility is also one of the most innovative and progressive of its kind in northeast Pennsylvania. Nestled in the scenic Pocono Mountains, our 117 bed skilled nursing and rehabilitation center offers both private and semi-private rooms. Dining and activity plans are individualized for each resident. We utilize a holistic approach and respect each person for who they are. Pay us a visit!

24-hour quality nursing care
Our skilled staff provides 24-hour quality nursing care, wound management, rehabilitative services, social services, registered dietician services, a full schedule of activities and respite care.
Read more about our services and amenities, including our friendly on-site hair salon, elsewhere on this website.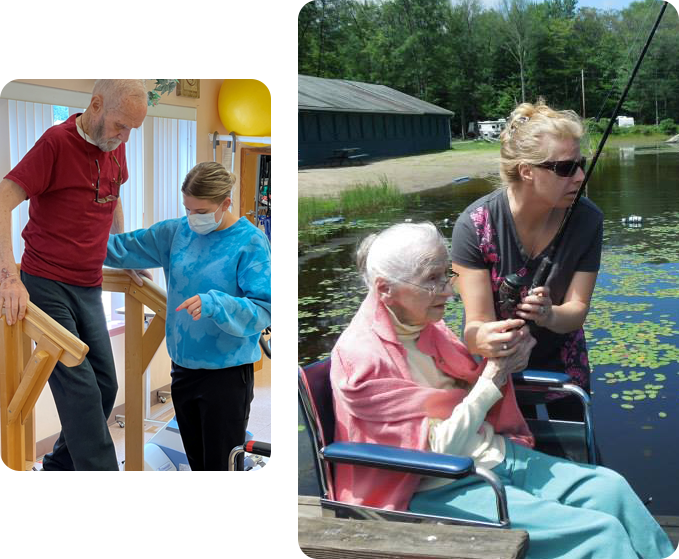 I cannot begin to thank you a million ways for the care you gave Mom while she was a resident in your facility. I never like to voice names of individuals who are special for fear I would leave someone out who gave the same caring and attention.
Suzanne
The community of Wayne Woodlands Manor staff members ranging from management, nurses, aids, rehabbers, maintenance, laundry, and yes even the kitchen gang were always pleasant, courteous, and responsive to special requests. To personally credit everyone who attended me in a gracious manner would require a list long enough to rival the Dead Sea scrolls.
Joe
During the past year, my husband, Richard W, fought a courageous battle against an aggressive cancer. He spent many weeks at different hospitals, on three occasions at Wayne Memorial Hospital where he was always well looked after by the staff.
Jean
Captured Moments With Our Residents